Poise, Power and Connectivity
by Venoth Nair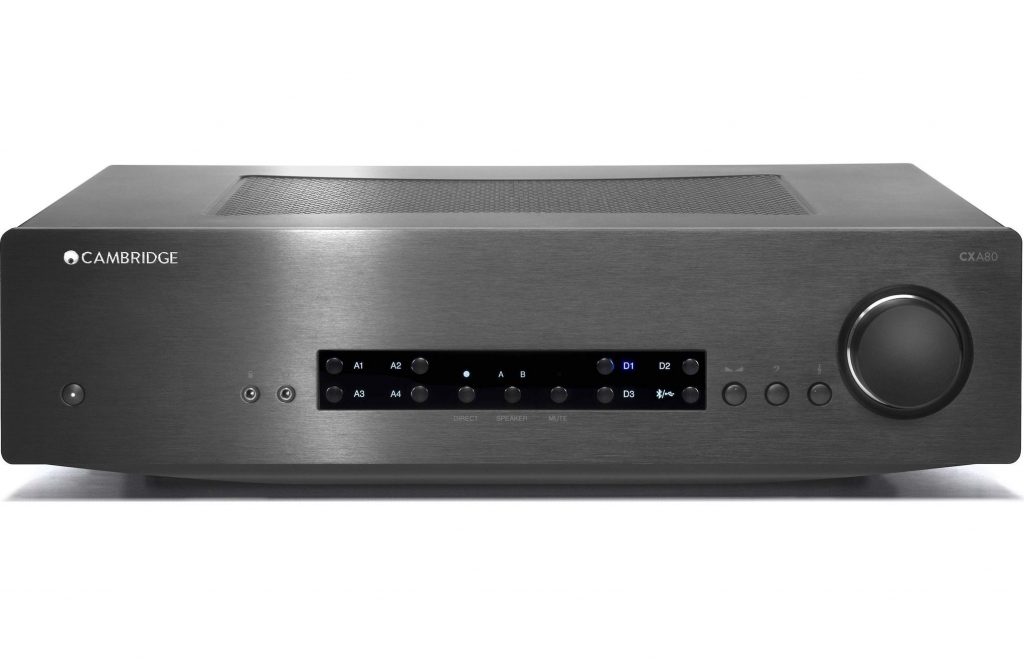 British Hi-Fi stalwart Cambridge Audio has been in the business of producing entry and mid-level hi-fi equipment for almost 50 years now. Some of their previous triumphs like the Azur series have given many budding audiophiles the privilege to enjoy superior sound quality at reasonable prices. The ability to squeeze out every ounce of audio performance from a rather tight budget whilst maintaining a fantastic amount of features is something that Cambridge Audio has become famous for.
In keeping with tradition whilst staying in the now of things, Cambridge Audio has decided to launch a new range which embodies the company's transition into the new realm of digital audio. The CXN series which is the product of this new direction has produced some impressive little pieces of audio equipment. Like what we shall be looking at today, which is the "big boy" integrated amplifier in the lineup, the CXA-80.
The CXA-80 sports bold new look that is a balanced mix of pure modern style and smart functionality. It retains the typical Hi-Fi dimensions at 430 mm width but with a very refreshing twist when it comes to aesthetics which can be seen and felt all around the unit. The brushed aluminum front panel is clean and modern looking with only the volume knob on the right and the black cutout in the middle that really detracts from the smooth surface. All the other buttons that are on the panel are rounded out beautifully and blends in seamlessly to the front panel. And although it might look like a display, the black cutout in the middle purely houses some other function buttons and indicator lights for the various audio inputs. No digital display here.
Moving around the unit, owners are greeted to a superior quality finish that starts with the thick brushed finish fascia that comes in two colours, silver and black. The smooth clean beveled edge volume knob just has a little notch to indicate the level and is motorized. On the top there is a large cutout which allows a little peak into the innards of this slick beast. Clearly visible is a large toroidal transformer that which unlike the smaller CXA-60 has separate taps for both the left and right channels.

Around back the CXA-80 is lavishly equipped with connections for both digital and analogue alike. 4 RCA input and a single balanced XLR can be found though missing is a phono input which may irk vinyl lovers though in my opinion I could always add a more specialized outboard unit for a better experience. On the digital side the CXA-80 comes loaded with 1 coaxial and two optical connections for connections that bypass the sources DACs. If you're looking for a direct connection to your mobile device there is Bluetooth connectivity as well as a USB connection.
As for outputs, the CXA-80 comes with a beastly 80-watts of class AB amplification which is more than sufficient for most mid to large speakers. Two sets of outputs are available for either switching between speakers or bi-wiring should it be your fancy. If you rather bi-amp using an external power amplifier or need even more power, a pair of preouts are available as well. For those who use little bookshelf speakers and depend on a subwoofer to dig deep, a thoughtful subwoofer output is also supplied. The variety of outputs makes the CXA-80 highly flexible when it comes to system configuration. Even a headphone out is included up front rounding out the amplifiers output options.
The CXA-80 utilizes a Wolfson WM8740 DAC chip converting all that bits and bytes into analogue signals. The use of this chip paired to some engineering design elements bring out a muscular and confident performance. The CXA-80 put out a detailed sound which showcases superior clarity but doesn't sound overly processed or clinical. The CXA-80 is also easy to pair and doesn't require too much fuss when it comes to finding it some mates. If you like your music presented loud and with a good amount of detail, then this amp is for you
Thanks to a balanced mix of great sound, confident power, superb build and a plethora of features, the Cambridge Audio CXA-80 is a surefire win. This amplifier would be a perfect addition for those looking to step into the digital age while maintaining a Hi-Fi pedigree. The CXA-80 retails for RM5,900.
For further details, contact:
Perfect Hi-Fi Sdn Bhd.
Tel: 03-5882 1693
Andy: 019 2112566